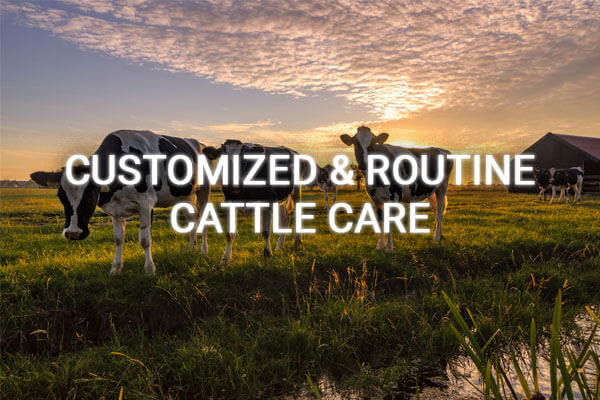 Green Prairie San Jose offers comprehensive bovine services customized for the needs of the individual producer and herd, including breeding, artificial insemination, and embryo transfer services.
Consult with our veterinarians for herd wellness care, including vaccinations, nutritional needs, and a reproductive program. We address all bovine foot and lameness issues, offering preventive trimming prior to breeding season and foot care that meets your herd management needs. Our roll-over foot table provides a safe means for foot trimming and lameness diagnosis and treatment and can also be used for surgeries when needed. Our facilities include holding and sorting pens and a hydraulic squeeze chute with neck extension for processing, as well as for standing surgeries. This allows us to process cattle in all weather conditions–quickly and safely with less stress for you and your animals.

Aside from basic herd wellness and care, we offer extensive bovine reproductive services with breeding soundness exams, artificial insemination, embryo transfers, and reproductive ultrasounds.