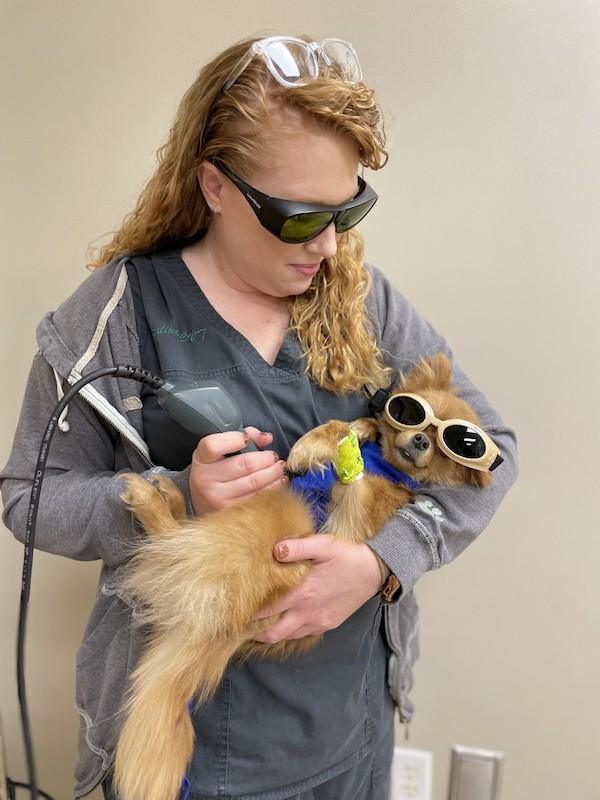 We at Green Prairie Animal Hospitals are excited to announce that we now offer Laser Therapy for your pets. Laser therapy, also known as low-level laser therapy, cold laser therapy or Class IV laser therapy, is a noninvasive procedure that uses light to stimulate cell regeneration and increase blood circulation.

Laser therapy is a sterile, surgery-free, drug-free, and pain-free treatment that can help make your pet feel and move more comfortably. Laser Therapy can be used to treat and speed the healing of a variety of issues such as injuries, wounds, fractures, neurological conditions, numerous dermatological problems, and pain. The laser also provides relief for pets suffering from arthritis.

The treatment process has shown to be quite relaxing for many pets. Once the laser technician and your pet are wearing their protective eyewear, a non-invasive handpiece will be used in a back and forth motion slowly over the intended area. For your pet, this will create a gentle and soothing warmth. Many pets find this procedure very relaxing; it is similar to a good massage. Many pets who were initially weary will find that their anxiety dissipates as their pain diminishes.

The number of laser treatments along with the duration of treatment varies according to each pet's ailment, size, coat, and needs. If you are interested in laser therapy please contact our office to discuss the benefits for your pet.

Reduce swelling, Relieve Pain, Promote Healing.